澳洲彩虹鹦
澳洲彩虹鹦版主


性别:

年龄: 53
加入时间: 2005/09/20
文章: 791
来自: 澳洲悉尼
积分: 11354
:

---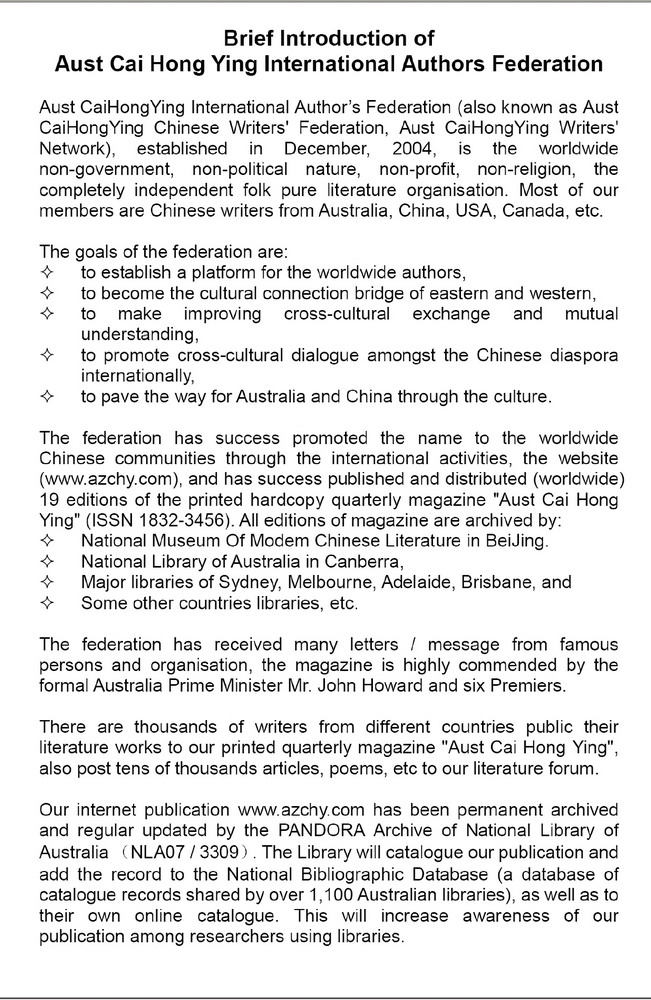 Brief Introduction of
Aust Cai Hong Ying International Authors Federation

Aust Cai Hong Ying International Author's Federation (also known as Aust Cai Hong Ying
Chinese Writers' Federation, Aust Cai Hong Ying Writers' Network), established in December,
2004, is the worldwide non-government, non-political nature, non-profit, non-religion, the
completely independent folk pure literature organisation. Most of our members are
Chinese writers from Australia, China, USA, Canada, etc.

The goals of the federation are:
# to establish a platform for the worldwide authors,
# to become the cultural connection bridge of eastern and western,
# to make improving cross-cultural exchange and mutual understanding,
# to promote cross-cultural dialogue amongst the Chinese diaspora internationally,
# to pave the way for Australia and China through the culture.

The federation has success promoted the name to the worldwide Chinese communities
through the international activities, the website (www.azchy.com), and has success published
and distributed (worldwide) 19 editions of the printed hardcopy quarterly magazine
"Aust Cai Hong Ying" (ISSN 1832-3456). All editions of magazine are archived by:
# National Museum Of Modem Chinese Literature in BeiJing.
# National Library of Australia in Canberra,
# Major libraries of Sydney, Melbourne, Adelaide, Brisbane, and
# Some other countries libraries, etc.

The federation has received many letters / message from famous persons and organisation,
the magazine is highly commended by the formal Australia Prime Minister Mr. John Howard
and six Premiers.

There are thousands of writers from different countries public their literature works to our
printed quarterly magazine "Aust Cai Hong Ying", also post tens of thousands articles,
poems, etc to our literature forum, link as below:
http://www.australianwinner.com/AuWinner/index.php?c=12/

Our internet publication www.azchy.com has been permanent archived and regular
updated by the PANDORA Archive of National Library of Australia (NLA07 / 3309).
The Library will catalogue our publication and add the record to the National Bibliographic
Database (a database of catalogue records shared by over 1,100 Australian libraries),
as well as to their own online catalogue. This will increase awareness of our
publication among researchers using libraries.

_________________
澳洲彩虹鹦国际作家笔会
Aust Cai Hong Ying International Author's Federation
www.azchy.com
sydchy@yahoo.com